Other dealerships constantly force their customers down a linear sales path in order to get them to buy a specific type of car they're pushing to sell. This typically includes a meet and greet, a lame walk around, a test drive, some negotiation, and eventually, a sale of a car you don't actually want. Duncan, Victoria, and Nanaimo drivers deserve better than to be treated like every other customer.
Harris Mazda uses an iBuy Responsive Shopping Experience in order to break from the normal dealership linear approach. Instead, our customers have complete freedom when it comes to choosing a car. After all, you're the one who's going to drive it, not us, so why should we care which one you choose as long as you're happy?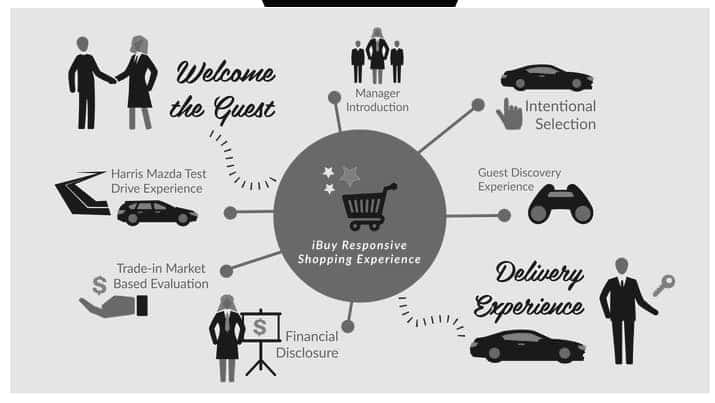 At Harris Mazda, we don't force you down a path. Instead, we use our friendly factor system to give you the power of choosing your own destiny. We'll start by welcoming you to our dealership in a friendly and engaging way, but then you get to choose how you spend the rest of your visit with us. You have the freedom of meeting with a manager to discuss your needs, or you can work with one of our trusted salespeople.
From there, you can receive an honest trade-in quote and assessment to determine your financial situation, or you can even enjoy a Harris Mazda test drive. No matter how you like to shop for a new car, truck, or SUV, we always make sure to put the power in your hands and give you complete control.
Let Harris Mazda Change Your Car Buying Process
Instead of settling for other dealerships' unwanted inventory, visit Harris Mazda today and enjoy the iBuy Responsive Shopping Experience. No matter what type of car, truck, or SUV is desired in Nanaimo, Duncan, or Victoria, we'll provide the friendly service and support you need to make YOUR decision. Our team is always willing to help you in any way possible, so start your buying process now by checking out our inventory below or giving us a call at 250.758.9125. You'll be amazed at what you can get when you're in charge.